Jennifer Rizzo, DVM
Friendship Pet Hospital
San Antonio, Texas
Open/Download Quarterly Update as PDF
Heartworm Outreach: Client Education in the Age of Covid-19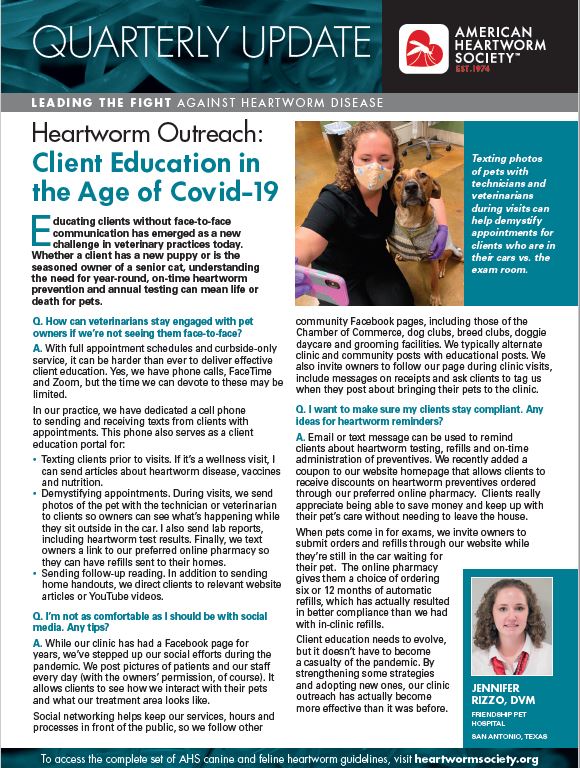 Educating clients without face-to-face communication has emerged as a new challenge in veterinary practices today. Whether a client has a new puppy or is the seasoned owner of a senior cat, understanding the need for year-round, on-time heartworm prevention and annual testing can mean life or death for pets.
Q. How can veterinarians stay engaged with pet owners if we're not seeing them face-to-face?
A. With full appointment schedules and curbside-only service, it can be harder than ever to deliver effective client education. Yes, we have phone calls, FaceTime and Zoom, but the time we can devote to these may be limited.
In our practice, we have dedicated a cell phone to sending and receiving texts from clients with appointments. This phone also serves as a client education portal for:
Texting clients prior to visits. If it's a wellness visit, I can send articles about heartworm disease, vaccines and nutrition.
Demystifying appointments. During visits, we send photos of the pet with the technician or veterinarian to clients so owners can see what's happening while they sit outside in the car. I also
send lab reports, including heartworm test results. Finally, we text owners a link to our preferred online pharmacy so they can have refills sent to their homes.
Sending follow-up reading. In addition to sending home handouts, we direct clients to relevant website articles or YouTube videos.