How do pets become infected with heartworms? It all starts with a mosquito that feeds on an infected dog and later feeds on another dog, cat or ferret. The illustration below takes you through the heartworm life cycle, step by step, and helps you understand how and when heartworm preventives work, when infection can be detected on a heartworm test, when treatment is necessary and how long heartworms live.
---
The American Heartworm Society has updated the heartworm life cycle for use in the veterinary clinic and for pet owners.
Both versions are available in either color or black and white. Click on the life cycle you would prefer to download and print.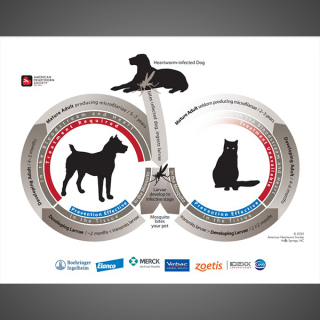 Category:
Heartworm Awareness Month Posters
Canine | Feline | Prevention | Diagnosis | Life Cycle | Veterinary Professionals | Pet Owners
Download PDF
---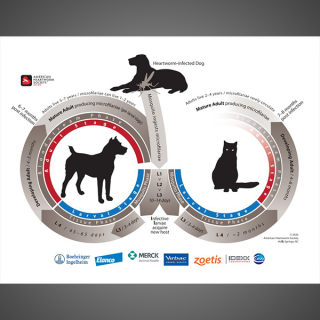 Category:
Heartworm Awareness Month Posters
Canine | Feline | Prevention | Diagnosis | Life Cycle | Veterinary Professionals | Pet Owners
Download PDF
---