Heartworm transmission and development are complex and can be challenging to explain. The AHS has created illustrations to help you educate staff members and clients about the following:
The role of mosquitoes in the heartworm life cycle and how they transmit heartworms to pets
The difference between dogs, as primary hosts, and cats and ferrets, which are susceptible to heartworm infection but atypical hosts
How and when heartworm preventives work
The gap in time between when pets become infected and when they can test positive on a heartworm antigen test
The lifespan of heartworms in different pets
Depending on whether you are training veterinary staff members or educating pet owners, the life cycle illustrations below can be used to help you explain transmission, prevention, testing and treatment of this important parasite.
---
The American Heartworm Society has updated the heartworm life cycle for use in the veterinary clinic and for pet owners.
Both versions are available in either color or black and white. Click on the life cycle you would prefer to download and print.
---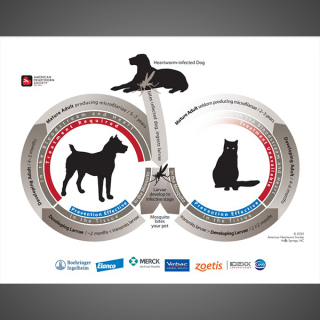 Category:
Heartworm Awareness Month Posters
Canine | Feline | Prevention | Diagnosis | Life Cycle | Veterinary Professionals | Pet Owners
Download PDF
---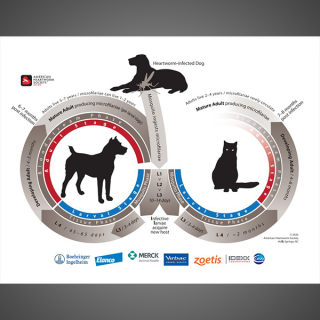 Category:
Heartworm Awareness Month Posters
Canine | Feline | Prevention | Diagnosis | Life Cycle | Veterinary Professionals | Pet Owners
Download PDF
---