Q. Please explain the American Heartworm Society (AHS) heartworm treatment protocol and its rationale.
A. The AHS treatment protocol—which I recommend—includes the following:
A pretreatment phase consisting of two months of a macrocyclic lactone preventive, four weeks of doxycycline therapy and applying an EPA-approved repellant. The objectives are to reduce new heartworm infections, eliminate existing susceptible larvae, render the dog unable to serve as a source of infection and to reduce Wolbachia numbers in all heartworm stages. Eliminating Wolbachia bacteria weakens the adult female worms and reduces their biomass. This an important factor when worms die later as a result of adulticide therapy.
Administration of prednisone to reduce the inflammatory impact of thromboemboli and mechanical beating of foot-long worms against the pulmonary artery.
Three injections of melarsomine on days 60, 90 and 91 to eliminate adult heartworms.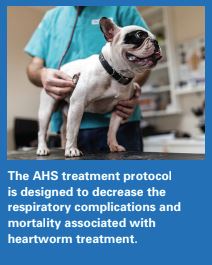 Q. Are there ways to scale back the protocol? For example, could I give two injections of melarsomine instead of the three injections recommended by the AHS?
A. Many veterinarians ask this question. The melarsomine product label outlines two different treatment programs—a two-injection protocol for Stage 1 and Stage 2 heartworm infections and a three-injection protocol for Stage 3 infection. The AHS protocol includes three injections of melarsomine, regardless of disease stage and symptomology. Why? Because two injections have been shown to kill approximately 90% of adult worms, while three injections have been demonstrated to kill 98% of worms. That is a significant difference.
The AHS protocol is also designed to decrease the respiratory complications and mortality associated with heartworm treatment. Research shows that respiratory complications are 66% less with the AHS protocol than with the two-injection melarsomine protocol with no pretreatment. Once again, the numbers support the protocol.
While the AHS treatment protocol takes time and can be expensive, I have found it to be superior at decreasing complications, increasing patient survival and eliminating infection. Circumstances sometimes necessitate consideration of treatment alternatives, but I believe it is my responsibility to present "best medicine" recommendations to all of my clients.