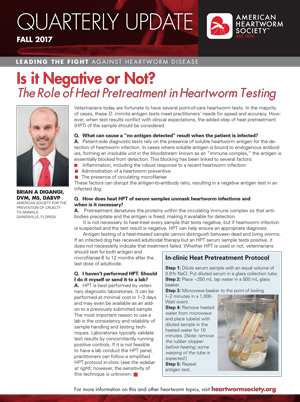 by Brian A Digangi, DVM, MS, DABVP
Veterinarians today are fortunate to have several point-of-care heartworm tests. In the majority of cases, these D. immitis antigen tests meet practitioners' needs for speed and accuracy. However, when test results conflict with clinical expectations, the added step of heat pretreatment (HPT) of the sample should be considered.
Q. What can cause a "no antigen detected" result when the patient is infected?
A. Patient-side diagnostic tests rely on the presence of soluble heartworm antigen for the detection of heartworm infection. In cases where soluble antigen is bound to endogenous antibodies, forming an insoluble unit in the bloodstream known as an "immune complex," the antigen is essentially blocked from detection. This blocking has been linked to several factors: