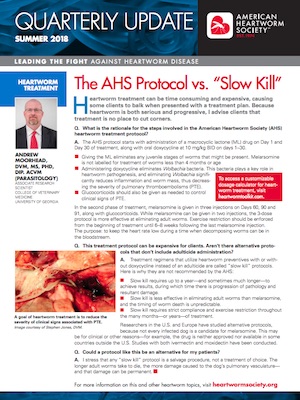 by Andrew Moorhead, DVM, MS, PHD, DIP
Open/Download Quarterly Update as PDF
Heartworm treatment can be time consuming and expensive, causing some clients to balk when presented with a treatment plan. Because heartworm is both serious and progressive, I advise clients that treatment is no place to cut corners.
Q. What is the rationale for the steps involved in the American Heartworm Society (AHS) heartworm treatment protocol?
A. The AHS protocol starts with administration of a macrocyclic lactone (ML) drug on Day 1 and Day 30 of treatment, along with oral doxycycline at 10 mg/kg BID on days 1–30.
Giving the ML eliminates any juvenile stages of worms that might be present. Melarsomine is not labelled for treatment of worms less than 4 months or age
Administering doxycycline eliminates Wolbachia bacteria. This bacteria plays a key role in heartworm pathogenesis, and eliminating Wolbachia signifi- cantly reduces inflammation and worm mass, thus decreas- ing the severity of pulmonary thromboembolisms (PTE).
Glucocorticoids should also be given as needed to control clinical signs of PTE.